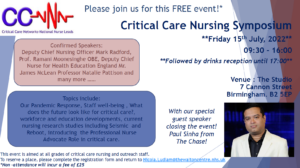 CC3N (National Network Nurse Leads) are holding a Symposium on Friday 15th July at the Studio in Birmingham. 2 free places are being offered to each critical care unit
The programme will include Critical Care response to COVID Pandemic, PNA role, What does the future look like for Critical Care?, the Nursing Associate role in Critical Care and Critical Care Education.
Confirmed speakers including Professor Ramanie Moonesinghe OBE NHS E National Clinical Director for Critical & Perioperative Care, Mark Radford Deputy Chief Nursing Office for England & Chief Nurse for Health Education England and Fiona Wyton, Deputy Director of Nursing, University Hospitals Birmingham.
If you are interested in attending this please complete the registration form below and send to nicola.ludlam@thewaltoncentre.nhs.uk